Maryland Tech Council Names Former State Commerce and Labor Secretary Kelly Schulz New CEO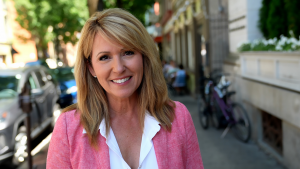 FREDERICK, MD (October 24, 2022) – The Maryland Tech Council (MTC), the largest technology and life sciences trade association in the state, has named the Honorable Kelly M. Schulz, a former cybersecurity small business partner, state legislator, and two-time state cabinet secretary, as its new CEO. 
As Secretary of the Maryland Department of Commerce from 2019 to 2021, Schulz oversaw the state's primary economic development agency, responsible for attracting new businesses, promoting innovation, and accelerating job growth. Under her leadership, the department served as the largest resource to provide financial assistance to struggling Maryland companies adversely impacted by COVID-19. She previously served as Secretary of the Maryland Department of Labor from 2015 to 2018. During her tenure, Maryland's apprenticeship program grew to its highest level since 2008, with more than 10,000 apprentices statewide and received national recognition as one of America's top programs. 
Schulz was elected to the Maryland House of Delegates representing Frederick County in 2010 and again in 2014. As a Delegate, she focused on legislation relating to business, banking, finance, economic development, and more. Prior to entering public service, Schulz served as program manager for a defense contractor and then became a partner in opening a cybersecurity firm. Schulz, who was a candidate for governor in 2022, lives in Frederick, Maryland with her husband.
Schulz succeeds Marty Rosendale, who has chosen to step down after four successful years as CEO.
"As a technology business partner, lawmaker, and economic development leader, Kelly possesses a rare combination of skills that make her an outstanding choice to lead the Maryland Tech Council," said Todd Marks, Chair of the Maryland Tech Council. "Kelly's success in both the private and public sectors will be key to helping our members succeed and continuing our organization's growth. I want to thank Marty for his superb leadership of MTC these past four years. We are proud of all that he has accomplished and wish him well in his future endeavors."
"I am honored that the Maryland Tech Council has put its trust in me at such an exciting time for tech and life science innovation," said Schulz. "As MTC rapidly scales its BioHub Maryland workforce development initiative and launches new regional chapters across the state, I am honored to lead the organization through this next growth phase. We will remain laser focused on leveraging Maryland's world-class innovation assets to help our members succeed." 
"Serving Maryland's technology and life science community has been a tremendous honor," said Rosendale. "After accomplishing the goals we set when I became CEO in 2018, I am convinced now is the time for new leadership. Kelly Schulz is the perfect choice to lead MTC into the future. I will do all I can to ensure a smooth transition."
The Maryland Tech Council is enjoying unprecedented growth. MTC secured nearly $5 million in state and federal funding to launch BioHub Maryland, a first of its kind life science initiative to meet the industry's workforce development needs. MTC this year launched regional chapters in the Greater Baltimore region and in Prince George's County to leverage its statewide presence for local impact in these communities. With more than 600 member organizations, MTC is the premiere advocate in Maryland for companies that are saving lives, securing our nation and improving quality of life through innovation.
About the Maryland Tech Council
The Maryland Tech Council (MTC) is a collaborative community that is actively engaged in building strong technology and life science industries by supporting the efforts of our individual members. We are the largest technology and life sciences trade association in the state of Maryland, and we provide value by giving members a forum to learn, share, and connect. MTC brings the region's community together into a single, united organization that empowers our members to achieve their business goals through advocacy, networking and education. The vision for the Maryland Tech Council is to propel Maryland to become the number one innovation economy for life sciences and technology in the country. For more information visit mdtechcouncil.com
Media
Henry Fawell
Campfire Communications
henry@campfirecomm.com