MTC CRC Meet the Members
July 26, 2023 • Vision Technologies
Statewide Impact.
Local Presence. 

Welcome to the Chesapeake Regional Chapter ("CRC"), a chapter of the Maryland Tech Council (MTC), where we bring the resources and benefits of MTC to the Chesapeake and surrounding areas. As a member, you will have access to a variety of networking, educational, and advocacy opportunities, as well as support for technology and life sciences organizations, all designed to enhance the growth and success of these industries in the Chesapeake region. With CRC, you can connect with other industry professionals, gain valuable knowledge and insights, and advance your career. We are committed to fostering a community of the brightest minds in tech and life sciences, and supporting our members in achieving their goals.
JOIN today and move the Chesapeake region forward – together. 
About The Maryland Tech Council (MTC)
MTC is the largest technology and life sciences trade association in the state of Maryland, and we provide value by giving members a forum to learn, share, and connect. Members join an unparalleled network of innovative companies and industry thought leaders with access to opportunities for visibility, professional development and growth. Join the Baltimore Regional Tech Council using the promo code given to you by a member of the committee and start networking today!
Get the latest industry and innovation news from MTC, and never miss an MTC event!
Steering Committee
CHAIR
Jim Gibbons, Founder, Wealth Manager, Alpha Pointe Capital
CO-CHAIR
Trish Farrell, Senior Vice President & Principal, Brokerage, MacKenzie Commercial Real Estate Services
Owen Meeks, Vice President, Marketing & Strategic Channel Alliances, Vision Technologies
Greg Stone, Partner, Whiteford, Taylor, Preston, LLP
David Tohn, Chief Executive Officer, BTS Software Solutions, LLC
Tim Ward, Director, Katz Abosch
Tiernan Wallace, Chief Strategy Officer, 1Marksman
Kelly Caulk, Account Director, Defense & Aerospace, Eggplant (a Keysight company)
John Elstner, Managing Director, VenturePoint Partners
Christina Majernik, Director of Cybersecurity, Skyline Technologies
Sarah Horta, Director of Innovation & Strategic Partnerships, Maryland Economic Development Corporation
Rob Collins, Managing Member, Rapt4 Partners, LLC
Kimberly Cangelosi, Marketing & BD Specialist, SIXGEN
Michael DuVall, Jr., HR & Benefits Advisor, FosterThomas, Inc.
John Zuknick, VP, Business & Industry Solutions, Anne Arundel Workforce Development Corp
Founding Partners

Regional Chapter Sponsor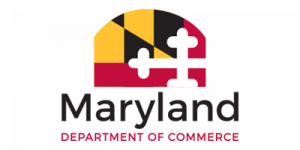 Founding Sponsors