Helping Maryland technology and life sciences companies affected by COVID-19
Technology Inclusion Initiative (TI2)
The Maryland Tech Council has launched its Technology Inclusion Initiative (TI2) to advance inclusivity within the State's technology industry and fuel socioeconomic advancement throughout Maryland.
JUNE 10-11 & 14-18, 2021
BIO Digital 2021
Connect with Maryland Companies in the Global Marketplace and on BIO Partnering One-on-One
JUNE 28, 2021
MTC's Annual Golf Tournament
Whiskey Creek Golf Club in Ijamsville, Maryland
Building the Community Together
Becoming an MTC sponsor can help you reach your goals. Explore sponsorship opportunities today!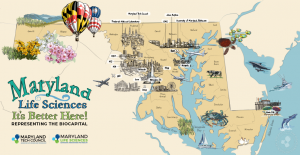 Representing the BioCapital
Highlighting organizations and resources that make it better here for the life sciences. Stay tuned to hear stories from members on why the BioCapital is #1 in life sciences.