MTC's Marty Rosendale – Forging a Life Sciences & Technology Ecosystem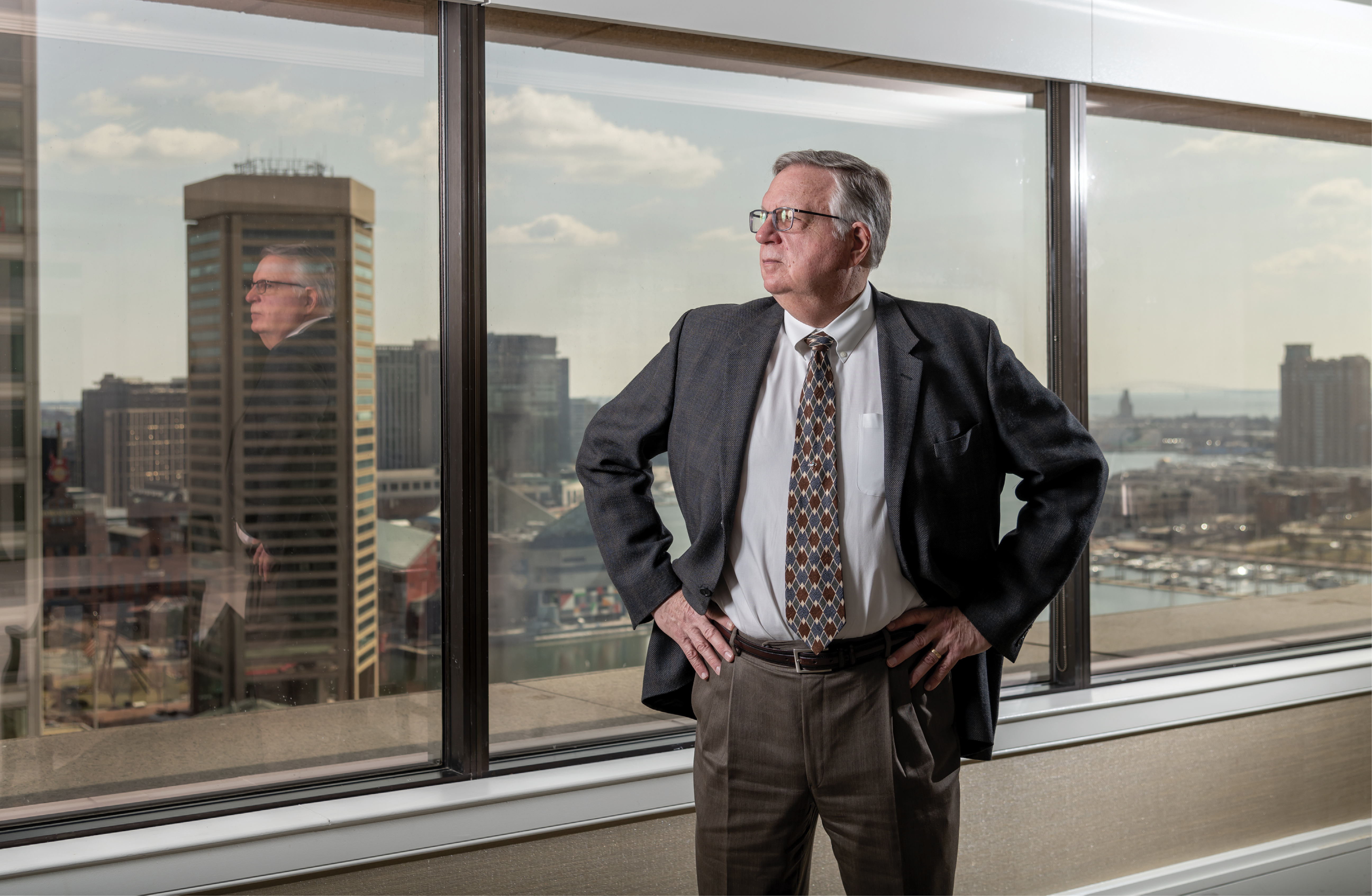 Maryland has always boasted of a strong, vibrant life sciences community anchored by prestigious universities, government institutions and the private sector. But, COVID-19 brought the state and its capabilities to the forefront as these cornerstone institutions rallied to the cause of defeating the novel coronavirus at the center of the pandemic.
Biopharma companies across the state pivoted their research and development programs to take on the challenge of defeating SARS-CoV-2, the virus that brought the world's economies to a halt as it rapidly spread across the globe. Vaccine-focused companies, such as Novavax, Altimmune and AstraZeneca leveraged their science into developing first- and second-generation vaccines. Contract development management companies like Emergent BioSolutions not only expanded their manufacturing capabilities to support vaccine makers; the Gaithersburg-based company is also developing its own therapeutics against the virus, including a monoclonal antibody designed to treat an immune hyperresponse called "cytokine storm."
Maryland's universities met the challenge of COVID-19 as well. Johns Hopkins was involved with a convalescent plasma study, among others, and the University of Maryland was involved with conducting clinical trials and studying antiviral compounds.
The COVID-19 research was funded, in part, by billions of dollars from the federal government's Operation Warp Speed COVID-19 task force. More than $8 billion in federal funding poured into the state to fight the pandemic.
At the center of it all, providing a calm, yet firm and guiding hand to the state's response, has been Martin Rosendale, chief executive officer of both Maryland Technology Council (MTC), an organization focused on advancing the life sciences and technology in the state, and Maryland Life Sciences (MDLS). A division of MTC, MDLS is a collaborative community, actively engaged in building stronger life science companies by supporting the efforts of our individual members who are saving and improving lives through innovation.
Rosendale, who took over the top spot of the organization in 2018 after serving as an advisor to the council's board of directors, says the state's life sciences ecosystem was already in place prior to the pandemic, but COVID-19 proved to be the catalyst that caused all eyes to focus on the innovations happening in Maryland.
AstraZeneca has seen its vaccine authorized for use in the United Kingdom and parts of Europe. The company recently completed its Phase III study in the U.S. and is poised to seek Emergency Use Authorization. Novavax is also on the cusp of seeking authorization for its effective vaccine after completing Phase III studies in the U.K. and South Africa. Emergent is busy manufacturing the Novavax vaccine, as well as the recently authorized vaccine developed by Johnson & Johnson.
"When the pandemic hit, all of those pieces came together and the region hit the ball out of the park. The world depends on so many things that are happening here in Maryland in response to COVID-19 and we really stepped up in our response," Rosendale says. He added the success in Maryland has brought increased attention from venture capitalists who are looking to support companies that can provide positive returns on investments.
With a background as an executive in the biopharma industry, Rosendale orchestrated a multi-pronged response to the pandemic. He harnessed the powers of the tech council and formed the COVID Coalition, a group of more than 40 companies and organizations that pooled their resources and capabilities to fight the virus. Rosendale calls it an unprecedented level of cooperation between public and private partners. He notes that Zalgen Labs, a preparedness life sciences company focused on the Lassa virus, opened its doors and lab space to a competitor so they could advance their own COVID-related research.
"All of the competitive barriers fell when this (COVID-19) happened. It's that sense of collaboration that makes this area so unique," Rosendale says. "I have never seen that kind of collaboration between companies in other states like I have seen in Maryland."
It wasn't just the life sciences companies that came together in the all-hands-on-deck struggle. The state's technology companies also joined forces, including software developers and chambers of commerce, to create a tool that helps companies identify if they qualify for the government's COVID relief fund. The software, called the Maryland Business Relief Wizard, helps users easily navigate the government programs available. Since it launched, the wizard has been used more than 40,000 times, Rosendale says.
"There's an amazing sense of collaboration and togetherness that became apparent during the pandemic. From where I sit, this has been fascinating to watch. I've been there to make sure that everyone who needs to talk together is talking," he says. Rosendale add that in his current position he was not able to make a vaccine, therapeutic or diagnostic against the coronavirus, but he was able to bring these sometimes disparate groups together to form a response against the pandemic.
Months ahead of the COVID-19 shutdown in January 2020, Rosendale had been busy raising the profile of the region at the annual J.P. Morgan Healthcare Conference in San Francisco. The important conference brought him into contact with key venture fund managers and companies with an eye on expanding their physical sites or looking to establish permanent roots. Rosendale extolled the many virtues of the state while laying the groundwork for the Maryland Life Sciences' newly-launched "It's Better Here" campaign.
The "It's Better Here" campaign highlights the different organizations and resources that make Maryland one of the key lynchpins in the U.S. life sciences industry. The campaign focuses on the state's strengths in cell and gene therapy, biomanufacturing, vaccines and immunotherapy. Many of the biopharma companies that have a significant presence in Maryland, Rosendale explains, are joining the campaign to highlight the reasons why they call Maryland home.
Cell and gene therapy has been particularly key for the state's success in life sciences. The work to sequence the human genome was conducted in Maryland. From that research, an entire industry sprang forth in the state. That industry continues to pay dividends. Kite Pharma, a subsidiary of Gilead Sciences, decided to bring its CAR-T cell therapy manufacturing to the state, and Frederick-based RoosterBio announced intentions to expand its own manufacturing in town, instead of seeking space elsewhere. Rosendale and the council played a role in encouraging financing from the state to support the cell and gene therapy industry. In fact, the tech council has been focused on helping early-stage companies navigate the capital market "beyond friends and family to venture and strategic capital," Rosendale says. He notes the association's role is to help their members succeed, which means they take on a role as mentor and advocate to provide opportunities to help them achieve their goals.
"Our job is to come alongside our members and support them any way we can. We help pave the way to make everything possible for our members to succeed," he says.
Rosendale first became involved with the Maryland Tech Council (and MDLS) more than 15 years ago. During his time as an advisor to the board in 2016, Rosendale provided the organization with financial guidance as it merged with Chesapeake Region Tech Council. Once the merger was complete, he stepped back from that role. But, in less than two years, the Maryland Tech Council came calling again. This time, they wanted him to take a permanent role as CEO for MTC.
Rosendale's drive to spearhead these different and, often unrelated companies, into a more cohesive unit are almost second nature to the California native, who chose to live and operate in Maryland simply because, as he said, "it's better here." Growing up in Southern California, Rosendale learned numerous key lessons about manufacturing and engineering from his father, a Navy-trained machinist turned toolmaker and serial entrepreneur in injection molding. Early in his career, Rosendale launched his own small engineering company called Tritech Engineering. Rosendale put himself through college with the money he raised as a tool design engineer. But instead of pursuing engineering, he followed a different passion: biology.