Driving Value to Our Members – Visit the new mdtechcouncil.com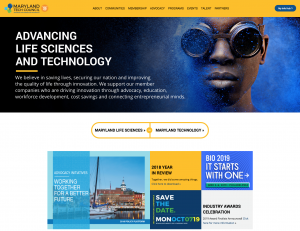 Transformations are happening and the Maryland Tech Council is unveiling our redesigned website. The website was a highly-anticipated project for our team and promises members and visitors a clean, uncluttered design that incorporates improved functionality and enhanced content. The refaced website is in coordination with our rebranding of the Life Sciences and Technology Divisions, which highlight our commitment to supporting the growing industries within the state. This change will help define the two division's specific focus, unique interests and perspectives within their communities in Maryland.
When you visit www.mdtechcouncil.com, you will be welcomed with vibrant bold colors, a clean design and more intuitive user interface. In addition to improved design features, we are taking the opportunity to strengthen how we represent our association and promote the industry to our members and stakeholders. Creating this new visual identity will serve as the platform to deepen our focus within the four strategic pillars which drive value to our members: advocating, connecting, educating and saving.
The new website provides our team the flexibility to add content that is important to your sector. Be on the lookout for further improvements such as discussion boards, an event app, and member marketplace in the weeks to come.