MD Life Sciences Bio Innovation Conference Attracts International Interest and Networking Through Virtual Trade Delegations
More than 40 Speakers Include Representatives from NOVAVAX, Emergent, AstraZeneca, Johnson & Johnson Innovation, GlycoMimetics, American Gene Technologies and Other Life Science Companies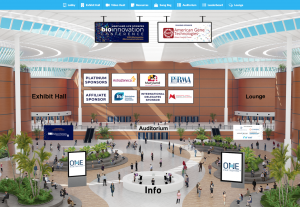 Frederick, Maryland, September 30, 2020 – Maryland Life Sciences (MDLS), a division of Maryland Tech Council (MTC), will hold its highly-anticipated Bio Innovation Conference on October 5-6, 2020. Each year, the conference is held in the life science hot bed, Montgomery County, but due to COVID, conference organizers will hold the conference virtually this year.
The event will be attended by more than 500 researchers, business leaders, academia, venture capitalists, promising startups and professionals in the life sciences industry. Attendees will experience live-streaming sessions with more than 40 industry experts on relevant and up-to-date topics. The keynote speaker will be The Honorable Jim Greenwood, Former President & CEO, Biotechnology Innovation Organization (BIO). MDLS will present him with a Lifetime Achievement Award before he gives his keynote address.
Other featured conference speakers include:
Rachel King, Co-Founder & CEO, GlycoMimetics, Inc.
William Hearl, Ph.D., Founder and CEO, Immunomic Therapeutics, Inc.
John Trizzino, Executive Vice President, Chief Business Officer and Chief Financial Officer, NOVAVAX
Syed Husain, Senior Vice President, CDMO Business Unit Head, Emergent BioSolutions
Sally Mossman, Ph.D., VP, Head of R&D Center, US, GSK Vaccines
Ken Mills, President and CEO, REGENXBIO, Inc.
Claire Leurent, Ph.D., MBA, Principal, Venture Investment, Johnson & Johnson Innovation
Jeff Galvin, Founder & CEO, American Gene Technologies
Tom Spitznagel, Senior Vice President, BioPharmaceutical Development and Manufacturing, Macrogenics
Pete Buzy, President, Gene Therapy, Catalent
MDLS will offer once again the One-on-One Partnering System, a program developed by BIO to foster business development and networking opportunities. Last year, the One-on-One Partnering System created over 255 networking and business development meetings. Additionally, MDLS is providing post-docs, early stage tech professionals and business grads steeply discounted registration rates to help accelerate and expand their careers through networking with key life science industry leaders.
This year, MDLS partnered with the Montgomery County Economic Development Corporation (MCEDC) and the Maryland State Department of Commerce to foster deeper international trade relationships between international life science eco-systems with the addition of a Virtual International Trade Delegations, which is attracting more than 70 international companies to the conference.
"This event provides a platform for Maryland to shine a spotlight on why we are viewed by the world as a booming life science hub—especially in vaccine development, cell and gene therapy, immunotherapy and biomanufacturing," said MTC CEO Martin Rosendale. "This is demonstrated by the more than 70 international companies that will be in attendance for the first time at this year's Bio Innovation Conference."
International representatives from the following countries and regions will be in attendance:
Global Victoria, Australia
New South Wales, Australia
Queensland, Australia
Hauts de France
Embassy Canada
Quebec, Canada
UK Midlands
Japanese External Trade Organization
City of Yokohama in Japan
"We encourage anyone interested in learning more about our state's thriving life science community or who desires to network with our life science leaders, to be sure to register for the Bio Innovation Conference," continued Rosendale. "This year is expected to be one of the most widely attended conferences to date, and we expect incredible collaboration to come from it."
For more information or to register, visit: marylandlifesciences.com/conference.
About Maryland Life Sciences
The Maryland Life Sciences (MDLS) division of Maryland Tech Council (MTC) is a collaborative community, actively engaged in building stronger life science companies by supporting the efforts of our individual members who are saving and improving lives through innovation. For more information: mdtechcouncil.com/communities/life-sciences.
About Maryland Tech Council
The Maryland Tech Council (MTC) is a collaborative community that is actively engaged in building strong technology and life science industries by supporting the efforts of our individual members. We are the largest technology and life sciences trade association in the state of Maryland, and we provide value by giving members a forum to learn, share, and connect. MTC brings the region's community together into a single, united organization that empowers our members to achieve their business goals through advocacy, networking and education. The vision for the Maryland Tech Council is to propel Maryland to become the number one innovation economy for life sciences and technology in the country. For more information: mdtechcouncil.com.
Media Contact:
Juliette Bogus
B Squared, LLC
Ph: 410.980.5687
Email: juliette@bsquaredllc.net