Maryland Tech Council Offers Members Private Meeting Area at Biotech Showcase 2020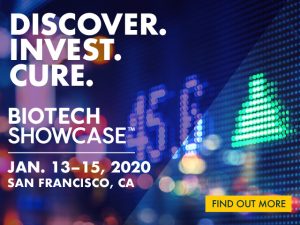 Gaithersburg, Maryland, January 6, 2020 – Maryland Life Sciences (MDLS), a division of the Maryland Tech Council (MTC), is providing its members an exclusive, highly sought-after meeting area adjacent to the Biotech Showcase™ at the Hilton San Francisco Union Square. Time slots are still available to MDLS members interested in utilizing the space to meet with potential investors and partners. The Biotech Showcase runs parallel to the J.P. Morgan 2020 38th Annual Healthcare Conference taking place January 13 – 16, 2020 in San Francisco. Montgomery County Economic Development Corporation (MCEDC) is the key sponsor of the MDLS meeting area.
"It's very difficult to find any space in conjunction with the Biotech Showcase to conduct meetings," said Maryland Life Sciences CEO Marty Rosendale. "Therefore, we see it as a true value add to offer this space to our MDLS members. The response has been incredible, and remaining spaces are filling quickly."
The Biotech Showcase is celebrating its 12th year with more than $400 billion in capital represented. It is one of the industry's leading investor conferences, as it expects more than 3,700 attendees, 2,200 companies, and over 1,000 investors. The Showcase features public and private corporate presentations, as well as plenary sessions and workshops that address a variety of business issues and therapeutic areas.
About Maryland Life Sciences
Maryland Life Sciences (MDLS), a division of the Maryland Tech Council, is a regional association for the life sciences community. We support our member companies who are driving innovation through advocacy, education, workforce development, cost savings programs and connecting entrepreneurial minds. MDLS represents biotechnology, clinical and research data, therapeutic, genetic, medical device, pharmaceutical and service companies that support Maryland's thriving industry. The valuable resources we provide to our members help them reach their full potential making Maryland a global leader in the life science industry. For more information: mdtechcouncil.com/communities/life-sciences/
Media Contact:
Juliette Bogus
PressComm PR
Tel: +410.980.5687
Email: juliettebogus@presscommpr.com