Maryland Tech Council Announces 2023 ICON Award Winners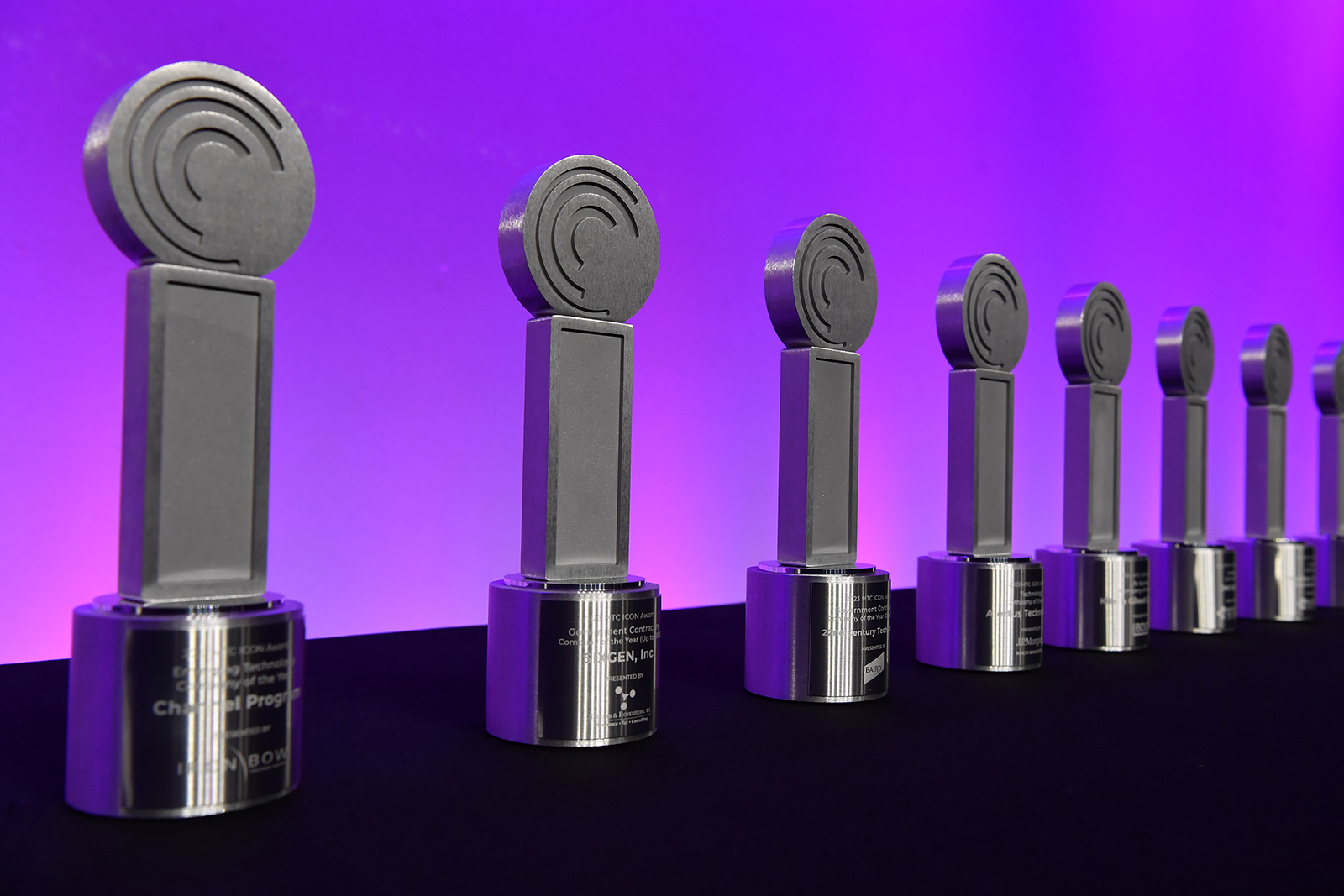 April 28, 2023 – The Maryland Tech Council, the largest technology and life science trade association in the state, announced the winners of its 2023 ICON Awards Thursday at the Bethesda North Marriott Hotel & Conference Center.
"We are excited to recognize these outstanding leaders and companies," said Kelly Schulz, CEO of the Maryland Tech Council. "In addition to growing their companies and raising the bar of excellence in Maryland, we are proud that these winners are passionate about giving back to their employees, students, and communities. On behalf of the entire Maryland Tech Council community, I congratulate this year's ICON Award winners and nominees for their achievements."
Venture Mentoring Services Mentor of the Year
Barry Lipsy
Venture Mentoring Services Venture of the Year
TechSlice
Volunteer of the Year
Mike Buher, Maryland Tech Council Treasurer, and Director, Assurance and Advisory Services, ClearView Group
Linda Segal, The McCormick Group (retired)
Advocate of the Year
Senator Guy Guzzone
Alexandria Scholars Award Winners
Alphonse Alamo – Chemistry-Pre-Pharmacy, University of Maryland College Park
Ashlynn Kidwell – Agriculture Science, University of Maryland College Park
Daniel Chin – Biological Sciences, University of Maryland College Park
Mia Meredith – Biocomputational Engineering, University of Maryland College Park
Rina Dirickson – Neuroscience, Johns Hopkins University
Shudan Jew – Biology and Forensic Studies, Loyola University
Tam-Anh Tran – Cell Biology and Genetics, University of Maryland College Park
Benjamin Williamson – Computer Engineering, University of Maryland College Park
STEM Educators of the Year
Michelle Hymowitz – STEM Educator – Earth Space Systems Lead, North County High School
Victoria Lee – Project Lead the Way – Engineering Teacher, Charles Herbert Flowers High School
Chief Executive Officer of the Year – Government Contracting
Rodney C. Williams, Sr., JASINT Consulting and Technologies
Mr. Williams founded JASINT in 2007 after a career in the United States Air Force. Under Mr. Williams's leadership, JASINT has grown to 80 employees holding prime contracts with numerous federal entities. Mr. Williams and the JASINT team are active in the community, supporting the Agape House Ministries Christmas Angel Program in Baltimore and the Lighthouse Shelter in Annapolis.
Chief Executive Officer of the Year – Life Sciences
Frank Amato, SYNAPS Dx
SYNAPS Dx is a privately held company focused on the research, development and commercialization of a diagnostic test for Alzheimer's disease (AD). Amato is a recognized thought leader in the AD community, educating patients, families, and payers on the importance of early detection and lifestyle strategies for preventing cognitive decline.
Chief Executive Officer of the Year – Technology
Mia Millette, Skyline Technology Solutions
Ms. Millette became CEO in 2021 after serving as COO. She has focused on employee satisfaction, and in 2022 the company was named one of Baltimore's "Best Places to Work" by The Baltimore Sun. She is passionate about women's equality in tech and serves on the board of ITS America.
Emerging Life Sciences Company of the Year
Theradaptive
Theradaptive is developing a therapeutic delivery platform for multiple clinical indications including immuno-oncology, orthopedics and soft tissue repair. The therapeutic delivery platform received 3 Breakthrough Designations from the FDA in 2022.
Emerging Technology Company of the Year
Channel Program
Channel Program brings IT channel experts together in a collaborative platform to connect the best channel partners (MSPs, MSSPs, VARs, IT service providers, and consultants) with the best technology vendors. Since its founding in 2021, Channel Program has gained 6,500+ members and 2,000 IT product reviews.
Government Contracting Company of the Year (Up to $50M)
SIXGEN, Inc.
SIXGEN provides world-class cybersecurity services and products to protect government organizations and commercial industries. In addition to enjoying substantial growth in 2022, SIXGEN provided cybersecurity opportunities to students at Maryland universities and also developed a Cyber PhD program for individuals looking to expand their career.
Government Contracting Company of the Year ($50M and above)
22nd Century Technologies, Inc.
22nd Century Technologies Inc., (TSCTI) is a management and technology consulting company, focused on providing IT managed services to Federal, State and Local governments. In addition to seeing rapid growth in 2022, the company completed two acquisitions and expanded its offerings from services only to a combination of products and services.
Life Science Company of the Year
Kite, a Gilead Company
Kite, a Gilead Company, is a global biopharmaceutical company focused on cell therapy to treat and potentially cure cancer. Kite recently announced the expansion of its global cell therapy supply chain operations in Frederick, Maryland that will create 100 additional jobs in the area.
Technology Company of the Year
Alertus Technologies
In 2022, Alertus Technologies opened the state-of-the-art Center for Intelligent Buildings, an IoT Technology hub for the safety and security industry in Baltimore. The Center serves as Alertus' headquarters for its 100+ local and remote employees, bringing new jobs to the area and encouraging many existing employees to live and invest in and around Downtown Baltimore.
Investor of the Year
JMI Equity
JMI Equity is a growth equity firm focused on investing in leading software companies. Founded in 1992, JMI has invested in over 175 businesses in its target markets, successfully completed over 110 exits, and raised more than $7.5 billion of committed capital. Its portfolio companies in the Maryland-DC-Northern Virginia region employ more than 3,000 people.
C-Suite of the Year
Maurice A. Tyler, CIO, Bowie State University
Mr. Tyler has more than 20 years of experience managing large-scale data centers and diverse teams of IT specialists, with a focus on higher education. In 2022, he helped lead the university's conversion of standard classrooms to hybrid flexible instructional spaces, and helped establish a program to provide students with computing devices and free internet service to help close the digital divide.
Award Sponsors
Alexandria Real Estate Equities, AstraZeneca, Avantor, Baird, BDO, Iron Bow Technologies, JLL, JP Morgan Wealth Management, Pillsbury, Saggar & Rosenberg
Gold Sponsors
Aprio, BIO, Ellume, Johns Hopkins Technology Ventures, Maryland Department of Commerce, Montgomery College, Marsh McLennan, Maxcyte, REGENXBIO, Vision Technologies, Whiteford Taylor Preston, Universities at Shady Grove
Cocktail Reception Sponsor
Withum
Centerpiece Sponsor
TEDCO
Silver Sponsor
BTS Software Solutions
About the Maryland Tech Council
The Maryland Tech Council (MTC) is a collaborative community that is actively engaged in building strong technology and life science industries by supporting the efforts of our individual members. We are the largest technology and life sciences trade association in the state of Maryland, and we provide value by giving members a forum to learn, share, and connect. MTC brings the region's community together into a single, united organization that empowers our members to achieve their business goals through advocacy, networking and education. The vision for the Maryland Tech Council is to propel Maryland to become the number one innovation economy for life sciences and technology in the country. Follow us at mdtechcouncil.com, LinkedIn, Facebook, Twitter, and Youtube.
Contact:
Henry Fawell
(410) 212-8468
henry@campfirecomm.com